- WoW Classic instead of training, i.e. reactions to the groups of the World Championships in LoL
Yesterday, the groups of the first two stages of the 2019 League of Legends World Cup were drawn, i.e. the play-in and main group stages. As usual with such events, professional players spared no comments or opinions on individual groups. Among many comments, of course, there was Marcin "Jankos" Jankowski.
For Jankos and his team, G2 Esports, yesterday's draw turned out to be quite successful, because Samurai landed in basket A together with Cloud9 and Griffin. This state of affairs meant that many experts and players said without hesitation that it is G2 who will leave the group from the first place. Jankos seems to think similarly, as he posted a very ironic tweet in which he wonders how his team will perform, having C9 in their basket, which always comes out of their groups, and Griffin, a formation known from BO1's great matches.
While in the case of forester G2 we are dealing with innocent irony, so his teammate, Martin "Wunder" Hansen decided to add oil to the fire and simply underestimate the rivals. Team mate Jankos wrote that the G2 group is so easy that it will be able to focus on the World of Warcraft Classic gameplay to the very finals.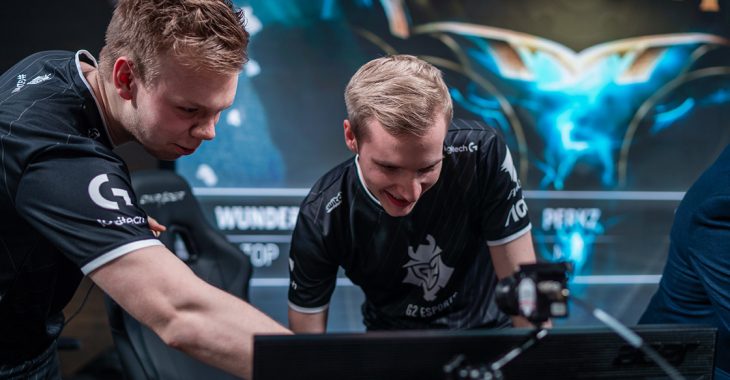 We are temporarily moving away from professional players and we will focus on the opinion of the former League of Legends commentator, and now the main manager of Origen - Martin "Deficio" Lynge, who after the draw provided us with a large dose of optimism.
Time for another G2 player who decided to share his opinion with the world after yesterday's draw. This time we are talking about Luka "Perkzie" Perković, who clearly indicated that he disagrees with the opinion of most people saying that Fnatic is written off by being in a group with Royal Never Give Up or SK Telecom T1. Two-time European Champion in League of Legends also commented on Splyce.
There is a lot of talk about the difficult group Fnatic found himself in, so it is not surprising that many awaited the commentary of Fnatic's main trainer - Joey "YoungBuck" Steltenpool, who said that he was not angry at this state of affairs.
Jungler Fnatic, Mads "Broxah" Brock-Pedersen is also of a similar opinion. According to the 22-year-old player, the Fnatic group is difficult and leaving it will be a challenge, but it is not impossible.
The League of Legends World Cup will start on October 2 and will last on November 1, when the grand finale will be held in Paris. Let us remind you that a total of 24 teams participate in the tournament, including three from the Old Continent. You can read more about yesterday's draw for Worlds 2019 groups here.
Tired of grinding?
Buy WOW Classic Boosting
via reliable game store
igxc.com
, 100% hand-grinded World of Warcraft Classic Gold for Sale, always in stock with instant delivery, 24/7 live support.
Login
Contact Us
Contact Us 24 Hours Online
24/7 Online Support
Tele : 0086-13389653886
Email: Support@GamersCome.com
SKYPE: mmovip@outlook.com
Live Chat
Notice
(1) Normally, We Would Only Deliver Gold According To Your Order Details. Once We Have Delivered The Gold, Your Order Is Completed.
(2) Our Website Is Not Responsible For All Of The Reasons Because Of Buyer Using Illegal Leveling And Gold Service, Filling In Incorrect Order Details. If Happens, Buyer Should Take All The Responsibility Himself/Herself.
Why choose Gamerscome.com?
Cheap Price
100% Handwork And Stable Stock Inventory Makes 100% Cheap Price In The Market.
Instant Delivery
99% Of Gamerscome Orders Will Be Delivered Within 5-30 Mins.
Security
We Guarantee All Game Gold And Service With 100% Handwork And 100% Security.
7/24 Customer Sevice
We Supply 7/24 Online Help Until You Happy.