- Some improvements from EA Sports
After plateauing a bit in recent years, NHL 17 made some big strides and produced optimism for the future of the series. Personally, I'm looking forward to seeing how they build on that momentum with the upcoming NHL 18.
NHL is the popular ice hockey game series by Electronic Arts that is released annually since 1991. Besides the US pro league NHL (National Hockey League), undoubtedly the best league in the world, by now other professional leagues have made their way into the iconic game series as well, including the German DEL, the Swedish Elitserien or the Swiss National League with all original teams and players. NHL has an immense fan following with every new edition attaining great heights of popularity. Fans always tend to get excited when a new edition is about to be introduced since they look forward to seeing what new features it will have to offer.
NHL 18 is set to be released next, in order to guarantee a smoother Hockey video gaming experience all you need to do is improve your individual player stats. This is accomplished by spending HUT 18 Coins.
With that in mind, here are a dozen ideas (some serious, others not so much) that I think would be beneficial to incorporate into the upcoming release.
Better graphics
The graphics have taken a step forward a bit in recent years but they're still behind where they should be, especially when you compare them to others sports franchises on the market. There are still too many generic player faces, and even the non-generic ones need fine-tuning and improvements to become more lifelike. Jersey details (and movements) still need a bit of work as well.
Better Stanley Cup celebration
Every NHL season concludes with one lucky team raising the Stanley Cup and it's always enthralling to watch. It's a very emotional experience, as it's one of the most difficult trophies to win in all of sports and the journey to do so can be extremely grueling. Thus, the celebration is often cathartic and chaotic.
Players who log countless hours playing through a full digital season deserve a better reward for their efforts. Even earlier versions of the game had a more satisfying championship celebration.
Improved in-game presentation
The franchise got a much-needed presentation refresh when NHL 15 delivered a shift to NBC broadcast integration.
The NBC integration has doesn't have much of a true broadcast feel. They could help change that by offering more authentic replay styles, a more larger array of cut scenes between whistles and more broadcast graphics (stats, game notes, analysis, etc.) with accompanying commentary.
Analytics
Do we really need the incorporation of advanced analytics for maximum enjoyment of a hockey video game? Probably not. But it's inarguable that there's a growing emphasis on analytics within the hockey community these days.
Incorporating more evaluation methods beyond just classic stats (points, shots, hits, time of possession, etc.) could be a good way to help introduce analytics to some gamers and educate them on their value to the sport.
Revamped ratings system
It feels like there's very little distinction between the tiers of players in NHL. Many second-tier players are rated too closely to the game's elite superstars; too many third-tiers are close to second-tiers, and so on and so on. Any player in the game who deserves an NHL roster spot is rated an 80 or above, a mere 15 points away from the game's very best player. That needs to be fixed.
Blood!
This might hurt the game's 'E for Everybody' rating but seeing players bloodied after a fight or taking a high-stick would add some realism to the violent nature of the sport.
I'm not saying we've gotta see blood leaking from a player's head (what's up, NHLPA '93?) but the game already lets players suffer black eyes and scars, so why not add some blood? With the recent (supposed) crackdown on player safety, it's pretty unlikely.
Gameplay tweaks
That being said, there are definitely things that still need work. Passing needs to be improved. Too often the game will misread your intended target on a pass and send it somewhere that will leave you shaking your head in frustration. Puck pickups also need refinement, as does the physics engine that causes response to body contact.
Also, I'd love to see them add a three-on-three mode. Mini-games would also be awesome. They series used to have an awesome Free-4-All mode that was a ton of fun. They should bring that back.
Here at g
amerscome
, We provide the latest game news and guides, sell the Cheapest NHL 18 Ultimate Team Coins, and offer the most convenient, fast and safe payment methods, such as Paypal, Master Card, American Express, Western Union. Now
gamerscome
has registered a large number of members and got the praise of many gamers. What more, 24*7 Live Chat helps our customers to solve the order problems no matter you contact us anywhere and anytime, which make you have a perfect shopping experience.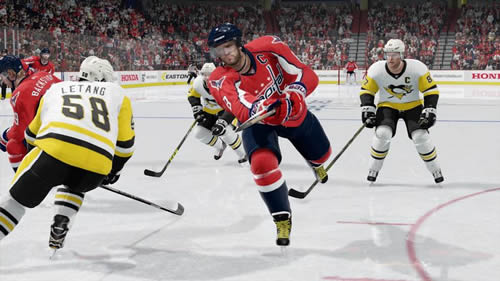 Login
Contact Us
Contact Us 24 Hours Online
24/7 Online Support
Tele : 0086-13389653886
Email: Support@GamersCome.com
SKYPE: mmovip@outlook.com
Live Chat
Notice
(1) Normally, We Would Only Deliver Gold According To Your Order Details. Once We Have Delivered The Gold, Your Order Is Completed.
(2) Our Website Is Not Responsible For All Of The Reasons Because Of Buyer Using Illegal Leveling And Gold Service, Filling In Incorrect Order Details. If Happens, Buyer Should Take All The Responsibility Himself/Herself.
Why choose Gamerscome.com?
Cheap Price
100% Handwork And Stable Stock Inventory Makes 100% Cheap Price In The Market.
Instant Delivery
99% Of Gamerscome Orders Will Be Delivered Within 5-30 Mins.
Security
We Guarantee All Game Gold And Service With 100% Handwork And 100% Security.
7/24 Customer Sevice
We Supply 7/24 Online Help Until You Happy.