- nba 2k18 e-sports efforts needs to expand
The NBA 2K eLeague is going to revolutionize competitive gaming in sports video games. The level of fan interest is significant and with the NBA's backing, it's hard to imagine it failing.
In NBA 2K series game, MyTeam mode was first introduced in NBA 2K13, and is based around the idea of building the ultimate basketball team, and maintaining a virtual trading card collection. Players build their own custom team, selecting the players, current and past, jerseys, coach, court, and other basketball related things, and play with their team in basketball tournament-style competitions against other players' teams. Players collect cards that unlock players, playbooks, and other items that can be used in their team or sold.
NBA 2K MT is the in-game curreny in NBA 2K 18 which can help Players to build team easy. We all know that 2K would release the NBA 2K 18 in September 2017. This basketball game apply for all game platform which involves Nintendo Switch, PC, PS4, XBOX ONE.
NBA 2K is such a huge game, there's no reason it shouldn't have multiple eSports events. It's almost like the virtual equivalent to track and field. The events take place on a similar platform, but they are very different.
EA Sports has crafted a promising eSports platform featuring 1v1 play, but they utilize Ultimate Team/Draft Champions to deliver freshness to the teams and competition. To successfully execute 1v1 play in NBA 2K, the MyTeam mode must add a draft component with salary-cap restrictions.
Aside from being a fun feature in a card-collecting mode, a draft of some sort would not only gauge a gamer's ability on the sticks, it would also test their team-building skills. This feature is a little overdue in NBA 2K, so I'd be shocked if it's not in NBA 2K18.
In the process, it would also create another eSports vehicle for 2K Sports.There's one more possibility, and this is a much grander concept, but still worth exploring. This idea features 1v1 play and team building, but it takes both angles to another level. It's time 2K started thinking about a competitive gaming event centered around its best mode, and that's MyLeague.
As franchise modes go, MyLeague sits at the pinnacle. For those who aren't aware of its brilliance, MyLeague allows up to 36 user-controlled teams in a league with a full draft, trades, free agency, injuries, and more. We're already set to have teams of five or more competitive gamers committing to an entire season of Pro-Am play for 2K eLeague, is it out of the question to have 36 men and/or women play a 35-game MyLeague season?
This concept could begin with a fantasy draft, and it would be the ultimate test of a competitor's general manager skills, as well as their ability to play and execute on the floor. In fact, you could even have two-man teams. One person could act as the GM and the other could be in charge of gameplay, or perhaps there would be some handled both duties.
Essentially, we're looking at interactive fantasy basketball, and that figures to be appealing to a good percentage of 2K's massive fanbase. Worried about boredom for such a long haul? How about if every in-season win carried a $2,000 prize and if there were in-season incentives like $500 for having a player on your team lead the league in a major category? Also, the champion could take home $100,000 prize for their consistency and skill. That setup would keep things interesting throughout the season.
One of the reasons NBA 2K has become the iconic brand that it is today is because they haven't been afraid to push the envelope or to break new ground with technological innovation.
Hopefully, they won't stand pat with Pro-Am eSports presence without getting the most from of their complete product.
If you want to acquire Cheap NBA 2K18 MT Coins,
gamerscome.com
is the most reliable NBA 2K 18 MT Online store in this field.As for the current NBA 2K17, we have huge mounts of clients, and they always give us highly reputation. We are the trust NBA 2K17 Coins seller for you, as for now, we have been selling billions 2k17 MT Coins. Therefore, we have enough transaction experience to make sure everyone enjoy comfortable service here. Now, the 2k18 official MVP Pack is the best time for you to purchase.
We dedicate ourselves to offer players NBA 2K18 Coins with cheapest prices and quality service, will always strive to achieve our goal, to make sure that their customers get the best gaming experience after dealing with them. you to choose us!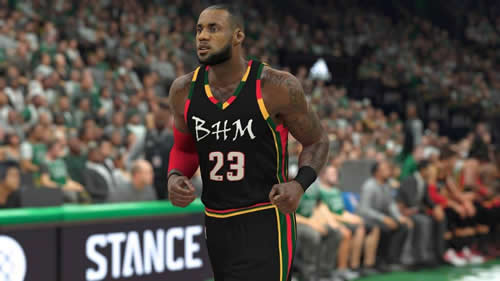 Login
Contact Us
Contact Us 24 Hours Online
24/7 Online Support
Tele : 0086-13389653886
Email: Support@GamersCome.com
SKYPE: mmovip@outlook.com
Live Chat
Notice
(1) Normally, We Would Only Deliver Gold According To Your Order Details. Once We Have Delivered The Gold, Your Order Is Completed.
(2) Our Website Is Not Responsible For All Of The Reasons Because Of Buyer Using Illegal Leveling And Gold Service, Filling In Incorrect Order Details. If Happens, Buyer Should Take All The Responsibility Himself/Herself.
Why choose Gamerscome.com?
Cheap Price
100% Handwork And Stable Stock Inventory Makes 100% Cheap Price In The Market.
Instant Delivery
99% Of Gamerscome Orders Will Be Delivered Within 5-30 Mins.
Security
We Guarantee All Game Gold And Service With 100% Handwork And 100% Security.
7/24 Customer Sevice
We Supply 7/24 Online Help Until You Happy.